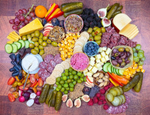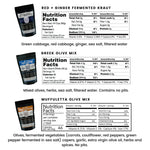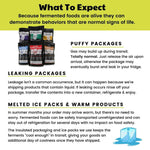 Big Board Bundle
The Big Board Bundle has everything you need to represent ferments on your next charcuterie or cheese board. Includes a curated selection of our most colorful and flavorful must-have ferments for any board.
This bundle contains: (1) Red + Ginger Kraut, (1) The Garlic Pickles, (1) Veggie Medley, (1) Greek Olive Mix, (1) Red Pepper Olives, (1) Muffuletta Mix
Naturally fermented in salt water brine and loaded with an average of 13 billion CFUs of lactobacillus per serving
Olives and kraut contain 16 ounces (1 pint) of product plus brine. Pickle contain 28 ounces (8-12 pickles) plus brine.
Regular Price
Sale Price
$92.94
Looking for the best deal? Buy more and save. Discounts apply in cart. Shipping is always FREE.