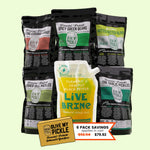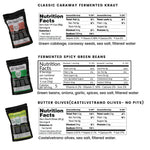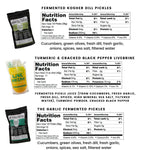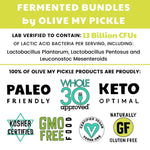 Holiday Ferment Bundle
Celebrate gut health with a variety of ferments on your holiday table that your family and guests will love.
The bundle contains: (1) Classic Caraway Sauerkraut, (1) Spicy Green Beans, (1) Pitted Butter Olives, (1) Kosher Dill Pickles, (1) Turmeric & Cracked Black Pepper LiveBrine, (1) Garlic Pickles.
Naturally fermented in pure, high mineral salt water brine.
Loaded with an average of 13 billion CFUs of lactobacillus per serving.
Regular Price
Sale Price
$92.94
Looking for the best deal? Buy more and save. Discounts apply in cart. Shipping is always FREE.