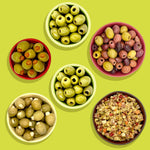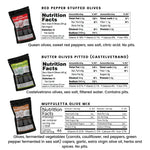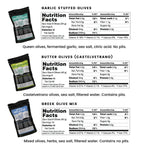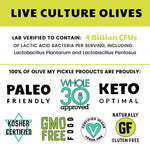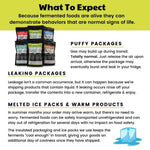 Big Healthy Olive Bundle
We've made it easy. A weighted selection of our most popular olives to get you started.
Includes: (2) Pitted Butter Olives, (1) Red Pepper Stuffed Olives, (1) Garlic Stuffed Olives, (1) Greek Olive Mix and (1) Muffuletta Mix
Olives naturally fermented in salt water brine and loaded with 4 billion CFUs of lactobacillus per serving.
One package contains 16 ounces, equaling one full pint of olives plus brine.
Regular Price
Sale Price
$92.94
Looking for the best deal? Buy more and save. Discounts apply in cart. Shipping is always FREE.