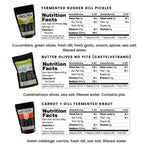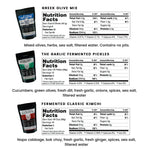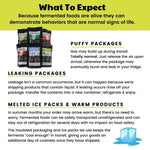 Best of Olive My Pickle Bundle - 6 pack
We've made it easy. An easy selection of our most popular products to get you started.
Includes: (1) Kosher Dill Pickles, (1) The Garlic Pickles, (1) Carrot + Dill Kraut, (1) Classic Kimchi, (1) Greek Olives, (1) Pitted Butter Olives
Naturally fermented in salt water brine.
Contains on average 13 billions CFUs of lactobacillus per serving.
Regular Price
Sale Price
$92.94
Looking for the best deal? Buy more and save. Discounts apply in cart. Shipping is always FREE.