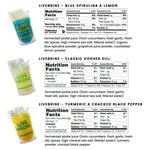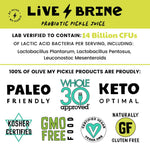 LiveBrine Starter Kit FREE shot glass included
Get started with LiveBrine right here! Includes our three most popular varieties of LiveBrine Pickle Juice, plus a free Rise & Brine shot glass to get you started. Pickle juice made from naturally fermented, salt water brine pickles.
Includes: (1) Turmeric & Cracked Black Pepper, (1) Classic Kosher Dill, (1) Blue Spirulina & Lemon
Loaded with 13 billion CFUs of lactobacillus per serving.
One package contains 19.5 ounces, equaling 13 shot glass size servings.
Regular Price
Sale Price
$46.47
Looking for the best deal? Buy more and save. Discounts apply in cart. Shipping is always FREE.