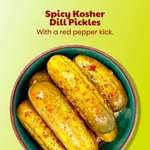 Spicy Kosher Dill Fermented Pickles
For our Spicy Kosher Dill Pickles we added crushed red pepper flakes to our kosher dills, igniting a warm to medium heat level that will keep the kids away from 'your' pickles.
Naturally fermented in pure, high mineral salt water brine.
Loaded with 13 billion CFUs of lactobacillus per serving.
Each package contains over 1 pound of pickles plus probiotic brine.
Regular Price
Sale Price
$15.49
Looking for the best deal? Buy more and save. Discounts apply in cart. Shipping is always FREE.