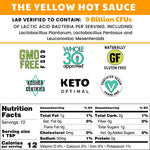 The Yellow Probiotic Hot Sauce
The Yellow is a bright and aromatic sauce, sweetened by mango and satisfyingly zesty with a medium heat level.
Naturally fermented hot sauce, made from salt water brine.
Loaded with 9 billion CFUs of lactobacillus per serving.
12 fluid ounces. Serving size is 1 teaspoon, and the bottle contains 72 servings.
Regular Price
Sale Price
$15.49
Looking for the best deal? Buy more and save. Discounts apply in cart. Shipping is always FREE.