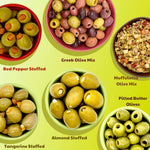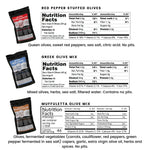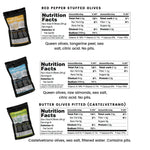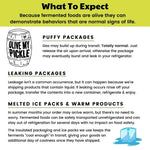 Holiday Olive Bundle
Holiday Olive Bundle has everything you need to entertain and host your guests throughout the holiday. Includes conversation starters like the Tangerine Stuffed and Almond Stuffed, plus cherished favorites like Pitted Butter, Greek Mix and more.
The bundle contains: (1) Red Pepper Stuffed, (1) Greek Mix, (1) Muffuletta Mix, (1) Tangerine Stuffed, (1) Almond Stuffed, (1) Pitted Butter Olives.
Olives naturally fermented in salt water brine and loaded with 4 billion CFUs of lactobacillus per serving.
Each package contains 16 ounces, equaling one full pint of olives plus brine.
Regular Price
Sale Price
$92.94
Looking for the best deal? Buy more and save. Discounts apply in cart. Shipping is always FREE.